JSOU VŽDYCKY DÁL: Tak jsme si mysleli, že když napíšeme třeba článek, že Onderka zakládá Brněnskou univerzitu úspěšných (BUÚ), budem vtipní.
Ne nebudem. Protože oni tuhle univerzitu chtěli založit doopravdy.
V roce 2001 si nejlepší brněnští právníci – viz níže – založili akciovou společnost Vysoké učení Brno (pro zobrazení klikněte na úplný výpis). Proč to nepojmenovali třeba Masarykova nejlepší univerzita, můžeme s odstupem času jen spekulovat, asi byl důležitý akcent na slovo vysoká. Chtěli získat akreditaci na několik bakalářských a jeden magisterský právní obor. Nikým nevolená Akreditační komise ale tuto výběrovou právnickou vysokou školu odmítla akreditovat.
Argumentovala přitom něčím tak nízkým, jako je nedostatečné personální zajištění. To je vzhledem k složení představenstva a dozorčí rady naprosto vyloučené: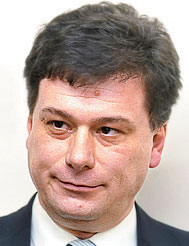 JUDr. Pavel Blažek (ODS), předseda představenstva: zástupce státu v kauze Diag Human (čelí trestnímu oznámení), kolega a radní starostky Krna – středu Dagmar Hrubé (půjde asi na pár let sedět), ochránce tajemníka Krna – středu, Radovana Novotného (sedí na 7 let), navrhovatel tajného hlasování o směně Jalty (aby se o hlasování zastupitelů nemohli zajímat policisté), šéf brněnské ODS (architekt velké koalice), ministr spravedlnosti (předem bez důvěry) a don Pablo.

JUDr. Zdeněk Koudelka (ČSSD), člen představenstva: poslanec (bývalý), dohazovač Blažkova zastupování Diagu (za ministra zdravotnictví Bohumila Fišera), náměstek nejlepší státní zástupkyně (Vesecké), neúspěšný Klausův kandidát na ústavního soudce (odmítla ho vlastní strana), vedoucí diplomové práce Michala Bortela, takynejlepšího starosty Krna – středu (posudky na práci fakulta nevydala).
JUDr. Radovan Novotný (ODS), člen představenstva: největší garant přes korupci v krněnské ODS (po dlouhodobé práci na úřadu Krna – středu, odkud byl pak převelen na Krno – sever za kolegou Hosem, chycen až s trapným milionem v igelitce, i to však stačí na čtyřletý pobyt v zamřížované síni slávy) a bývalý ředitel prvoligového klubu Basketball Brno.

Ing. Bc. Radomír Daňhel, předseda dozorčí rady (ODS): spoluator Vize 2020 ODS, spolužák Pavla Blažka z gymplu (spolu s ním i majitel domu v Zábrdovicích), kolega Koudelky a Blažka ze sedmimilionové zakázky od státu na Diagu (daňový poradce, insolvenční správce), kandidát do krajských voleb 2012, ministr Blažek ho hodlá jmenovat brzy svým náměstkem.

Mgr. Václav Picl (ČSSD), člen dozorčí rady: Picl je z dalekého Rakovníka, kde dělal nejlepšího starostu (a profiloval se jako další odborník na korupci), náměstek ministryně Buzkové, poslanec (se zálibou v alkoholu), v současné době místopředseda Českomoravské konfederace odborových svazů.

JUDr. Markéta Vaňková (ODS), členka dozorčí rady: místopředsedkyně ODS, Krno – střed, od roku 2002 členka zastupitelstva Krna – střed (pamětnice Novotného, Hrubé a celé sehrané party), v současné době uvolněná radní Krna – střed pro věci organizační a právní.
Petr Levíček, člen dozorčí rady: bratr zakladatale brněnské TOP, Jana Levíčka (nyní již bývalého člena), lobbisty za stravenky, Blažkův spolužák.
Martina Novotná, členka dozorčí rady: Google mlčí.
a jako třešnička na dortu
JUDr. Michal Hašek (ČSSD): absolvent maďarské právnické fakulty ve Sládkovičovu (odmítá ukázat své posudky, protože jsou výborné), neviditelný jezdec, šťastný výherce tomboly, nejlepší poslanec, předseda asociace krajů a když zbyde chvilka i hateman Jihomoravského kraje.
Skladba předmětů se nabízí sama:
Maďarština pro právníky, týdenní rychlokurz (Haszek Mihály)
Diag Human – jak vydělat na zajímavé kauze snadno a rychle, zápočet (garant: Zdeněk Koudelka, MZČR, vyučující: Blažek, Daňhel)
Svobodný přístup k informacím – praktická tvorba zákona (Haszek Mihály)
Povolování automatů aneb co je to škola, blokový seminář (Blažek, Novotný, Vaňková)
Volnočasové aktivity, longitudiální výzkum (Novotný – detašované pracoviště Bohunice)
Hranice Krna a platnost Ústavy, legislativně-kartografické terénní cvičení (Blažek)
Jak se dívat na věci (Mihály)
ODS a ČSSD v krněnských souvislostech: Najdi jeden rozdíl (kolektiv autorů).
Po neudělení akreditace se Vysoké učení Brno přejmenovalo na Víno Marcinčák, a. s., a dělá tedy do vína. Když nepude víno, zkusí se hrušky a když nepudou hrušky, budeme kreslit územní plány.